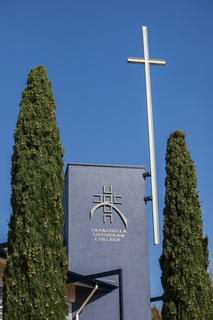 Teaching the Love of Christ
Tatachilla Lutheran College is a Christian School, operating under the auspices of the Lutheran Church of Australia.
As with all Lutheran Schools in Australia, Tatachilla recognises that our 'core activity' is the delivery of quality education to students from Reception to Year 12. That being said, it is also the case that we seek to model and demonstrate the Christian faith, in word and action.
Tatachilla Lutheran College aims to teach students about the love of God revealed in the life, death and resurrection of Jesus Christ. The College's motto is, "Teaching the Love of Christ." A majority of our staff members are Christians.
Students and their families can experience the 'love of Christ' in many ways at the College. This will happen intrinsically through many aspects of pastoral care, including reflective 'devotion' times, chapel gatherings and the Christian Studies curriculum that is taught to all year levels.