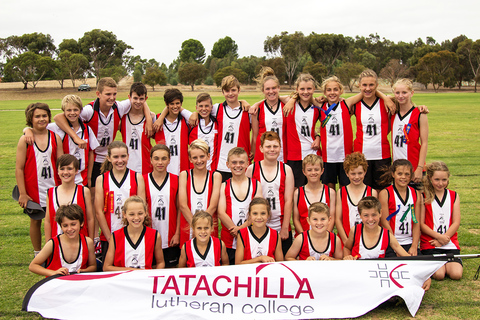 Sport at Tatachilla in the Junior School
Interschool Knockout Competitions
South Australian Primary Schools Amateur Sports Association (SAPSASA) is the sporting organisation that convenes the primary school's interschool sports knockout competitions in South Australia. Based on student interest we are fortunate to compete in the following sports:
Athletics
AFL
Basketball
Cross Country
Hockey
Netball
Soccer
Swimming
Rugby Tag
Tennis
Touch Football
Our students have also competed successfully in the following SAPSASA sports in past years:
Equestrian*
Golf*
Diving*
Triathlon*
Lawn Bowls*

Being involved in a non-traditional sport does not mean that you cannot compete. Our Sports Coordinator can provide more information to students/parents and help enter an individual/team should a competition for your sport be available through SAPSASA. A list of all SAPSASA sports and the competition nomination deadlines can be found at https://www.decd.sa.gov.au/teaching/sport/sports-and-competitions.
Individual sports – athletics, cross country and swimming championships, the student must be turning 10 in the year of competition.
Team sports – Students must be in Year 6 or 7 turning 11 in the year of competition.
(Basketball Year 4/5 also have a competition).

District and State Representation
Tatachilla belongs to the Onkaparinga South District and many of our students have represented our College and the District in championships and carnivals ranging from AFL, athletics, soccer, netball, tennis, swimming, cricket, hockey and cross country to name a few. Our students have been able to further their sporting careers by being chosen to represent South Australia from these carnivals/championships. State selection is based on ability and attending formal trials and any selected students must have the Principal's endorsement to compete.

Further Information
For further information please contact Mrs Tess Gilbert, Sports Coordinator, or Ms Zoe Edwards, SSO Sports at the College.