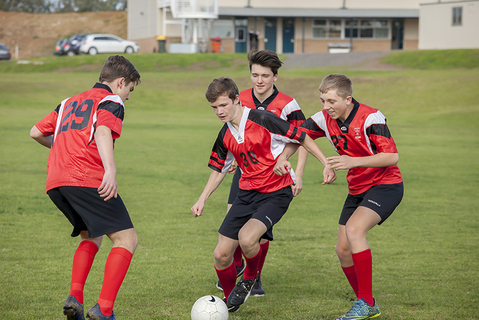 Year 10 Integrated Learning: Soccer Coaching
As part of Tatachilla's growing soccer program, students have the opportunity to study Year 10 Integrated Learning - Soccer Coaching, which is designed to advance the students' soccer skills and strategies while providing the opportunity for a formal Referee qualification.

SACE Credits
10 Stage 1 Credits

Course Overview
Year 10 Integrated Learning allows students to develop advanced soccer skills and strategies via playing, coaching and refereeing.
Students will follow the National Soccer Curriculum for their individual and team playing development. To add to this, students will engage in learning the laws of the game and gain hands-on refereeing experience through refereeing soccer tournaments. Students will sit the test to become a qualified Level 4 referee and work alongside the Noarlunga Districts Referees' Association to analyse professional games. This qualification would enable students to be paid for refereeing in the local community.
With the Coaching aspect of the course, the group will have the opportunity to gain the Aldi Mini Roos certificate which is the first qualification on the coaching ladder and will enable students to be able to coach 5-9 year old students. The students will have the opportunity to coach a team within the school community during this course.
An integral part of the assessment of the Integrated Learning subject is the opportunity for students to participate in peer assessment and self assessment. Students are required to reflect on their contribution to the collaborative outcome.
Students work collaboratively in a group to plan, organise and implement an activity or project. There will be opportunities for all students to collaborate in decision making and to share responsibilities. There is much flexibility in terms of the ways students contribute to the project allowing each student to use their strengths and talents.

Pathways
Through this subject, students would deepen their understanding, knowledge and skills of the game of soccer. They also share these skills with the broader community. In addition to skills specific to the game, the students would acquire soft skills of time-management, communication and working in a team which are transferable into every aspect of life. This will benefit any student who has an interest in health and sport as a career.

Further Information
Key Teacher: Mr Darren Vile
Email: darren.vile@tatachilla.sa.edu.au