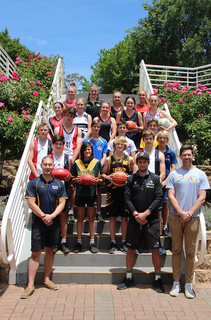 Advanced Athlete Academy (Years 9-11)
This elective subject extends and supports students in their chosen sporting pursuits and is targeted at those students who are playing/competing at a state or a national level in their chosen sport. Topics studied include: coaching and officiating, strength and conditioning, nutrition, sports injury and rehabilitation, training principles and methods, practical sports - transferable skills, and sports psychology. Students are also given an individual athlete plan and develop goal setting skills.
At the end of the year all students will have completed a sideline help and sports injury and taping course, provided by SASMA, will have an individual strength and conditioning program designed specifically to enhance their individual sports pathway, and will attain an Introductory Level Coaching certificate in their chosen sport. There is also an option of completing an officiating course.

View the Year 9 Advanced Athlete Academy Course Description >
View the Year 10 Advanced Athlete Academy Course Description >
View the Year 11 Advanced Athlete Academy Course Description >