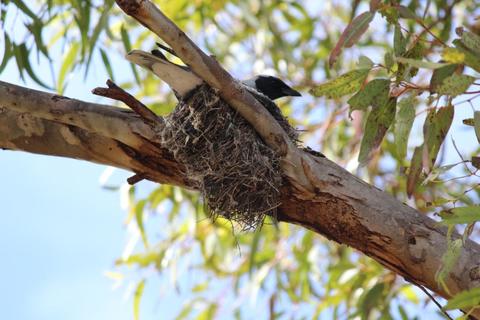 We now have a fire pit in the EcoClassroom!
24 November 2016
Dear Friends of the EcoClassroom,
The Indigenous students and their families spent Tuesday afternoon creating a fire pit. What a delight it was to see the smiles on their faces as they dug a hole, pushed rocks and logs into place and spread yankamite around the site. It is envisaged that this area will become a sacred place; a place of peace and reflection. On occasion, it will also be used to cook food.
There is also a new 'bone' pit for budding palaeontologists. This area incorporates a large sandpit with a selection of native and feral species' bones that, once uncovered, will need to be identified.
Thanks to the dedicated few who helped out at the recent FOEC Working Bee. Habitat was built in the Eucalyptus macrocarpa woodland in preparation for the fauna to be introduced around 2018, tall weeds were brush cut to allow for maximum growth of new plantings and, mulch was placed around young seedlings.
Aldinga Primary School students thoroughly enjoyed their visit to the EcoClassroom earlier this term and we look forward to hosting Port Noarlunga Primary School Reception – Year 2 students in the last week of the term. Local youth environment group, YACCA, will be also be undertaking EcoLearning on our site before the end of the year.
Please see an image of the EcoSkills Centre below. It was fantastic to see six Year 10 and 11 students from Tatachilla, Southern Vales Christian College and Willunga High School competently complete Certificate II in Conservation and Land Management. Of these students, two will be going on to complete Certificate III CLM at Monarto during 2017. Congratulations to Caitlin, who won the Conservation Land Management Award 2016 for outstanding work.
For your information, Trees For Life meetings are held in the EcoClassroom on the first Wednesday of every month, starting at 7.30pm. Guest speakers are invited and present up-to-date and engaging information about the environment. The next meeting will be held on Wednesday 7 of December.
I have also included an image of a Black-faced Cuckoo-shrike that is nesting in a tree north of the EcoSkills Centre. Black-faced Cuckoo-shrikes have a black face and throat, blue-grey back, wings and tail, and white underparts. They are slender, attractive birds. They have a curious habit of shuffling their wings upon landing, a practice that gave rise to the name, "Shufflewing", which is often used for this species. The Black-faced Cuckoo-shrike is widespread and common. Outside the breeding season, large family groups form flocks of up to a hundred birds. The Black-faced Cuckoo-shrike is found in almost any wooded habitat, with the exception of rainforests. Black-faced Cuckoo-shrikes feed on insects and other invertebrates. These may be caught in the air, taken from foliage or caught on the ground. In addition to insects, some fruits and seeds are also eaten. Black-faced Cuckoo-shrikes may mate with the same partner each year, and may use the same territories year after year. The nest is remarkably small for the size of the bird. It is a shallow saucer of sticks and bark, bound together with cobwebs. Both partners construct the nest and care for the young birds.For further information, please follow the link;
http://www.birdlife.org.au/bird-profile/black-faced-cuckoo-shrike
We take this opportunity to wish you a very blessed Christmas and a happy and safe new year. We look forward to further contact during 2017.
Dolores, Karen, Kristy and Dianne
ENVIRONMENTAL EDUCATORS