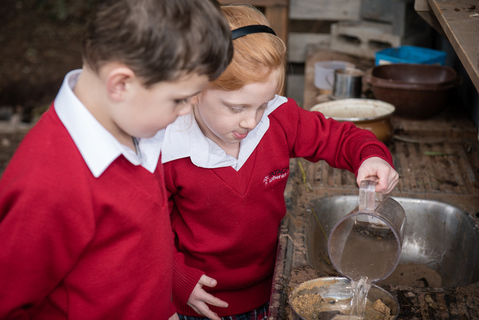 Teaching and Learning in the Junior School

At Tatachilla Lutheran College, each learner is acknowledged and known as an individual with their own story, achievements and challenges. We deliver personalised learning that focuses on a wealth of experiences, growth and achievement. Our quality curriculum comprises core elements that are planned, taught and assessed innovatively and developmentally.
Children bring an understanding of themselves and the world around them. The Junior School curriculum builds their literacy and numeracy skills across all areas of the curriculum. They are given opportunities to become independent and active learners, who are curious, inquiring, reflective and engaged in their learning. They enjoy playing and learning together, developing the skills and dispositions for individual endeavour and collaborative enterprise.
Learning through play and outdoor learning
Play is an important vehicle for learning in the Junior School. Play contributes to the cognitive, social and emotional development of our students. It also creates an environment for creativity to flourish, and for students to practice fine and gross motor skills, decision making and problem solving skills.
Our unique environment allows for a wide range of play opportunities, on the oval, in the natural creek setting, or in our 'ruin' and mud-kitchen. Play at Tatachilla includes: games with rules, imaginative and dramatic play, construction, STEM play and nature play.
Surrounded by mature trees and well-maintained gardens, the Junior School enjoys an expansive setting and outlook that encourages exploration, curiosity and imagination. With the mini-beast and bush tucker gardens, a seasonal creek and extensive areas of lawn, each classroom has the great outdoors on its doorstep.
Developing readers and writers
All children are readers and writers. From developing the early building blocks of reading through a whole-school phonics based approach, to independent readers, all students develop their skills and stamina for reading and writing through workshops that build creativity, thinking skills and a love for the written word in all its forms. They learn to listen to, read, view, speak, write, create and reflect on spoken, written and multimodal texts with accuracy, fluency and purpose.
Through the study of English our students learn to analyse, understand, communicate and build relationships with others and with the world around them.