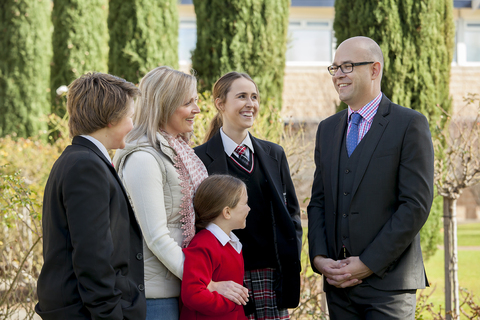 A place to be and to become
I extend a warm welcome to you as you explore Tatachilla Lutheran College.
Choosing the right school for your child is an important family decision and I believe Tatachilla Lutheran College offers the best possible educational start to your child's future. From their first day in Reception to their final day of Year 12 at Tatachilla, everything we do as a College is done with your child in mind.
We are an R-12 coeducational Christian school, located in McLaren Vale on the southern fringe of Adelaide, South Australia. The College provides a comprehensive and rigorous academic curriculum, with a particular focus on the performing arts and environmental education. Pastoral care, built on Christian foundations, is integral to College life.
My passion for education and innovative learning ensures the College's approach to education is continually enhanced. Together with our Senior Management Team, we boast over 150+ years' experience to these roles with experience in both Independent, Catholic and Government schools at all levels from Reception to Year 12. This wealth of experience provides me with a unique insight as Principal to this extraordinary College, made so by our vision to achieve and measure excellence by inspiring and empowering students to achieve their own personal best and in recognising them as individuals who have specific needs, their own dreams, beliefs and abilities.
Tatachilla Lutheran College has much to offer its students and their families. Structured as three distinct sub schools, the College offers a seamless pathway from Reception to school-leaving.
Having won national awards for our Performing Arts program, the College prides itself on creating high quality productions that involve students from R-12 as well as members of the local community.
By providing a balanced education that addresses the academic, social, emotional, physical and spiritual aspects of our student's lives, our success lies in them reaching their true potential, and in developing confident and resilient adults who have the skills, knowledge, values and attitude needed to shape their future and contribute meaningfully to the global community.
Our staff are dedicated and professional, passionately dedicated to developing the most effective ways for all children to learn. We promote and encourage in our students the principles for learning for life in the modern day world. Principles like: communication, collaboration, creativity, critical thinking, ethical and global citizenship, sustainable understanding and self-management.
I believe our appeal rests in our strong sense of community, the values we celebrate and our commitment and allegiance to our students and our community. I believe Tatachilla Lutheran College is ideally positioned to inspire, educate and empower young men and women of today into leaders of tomorrow and is worthy of your serious consideration.
Websites and Prospectus', although useful, rarely capture the true essence of a place. It is my hope that you might visit us and tour the College, so that you can see for yourself why it is that Tatachilla Lutheran College is one of the region's leading independent schools.
Further information including a Prospectus can be obtained through the Enrolments Registrar, or via the electronic form on our website.
I look forward to meeting you in the near future.
Cain McDonald
PRINCIPAL