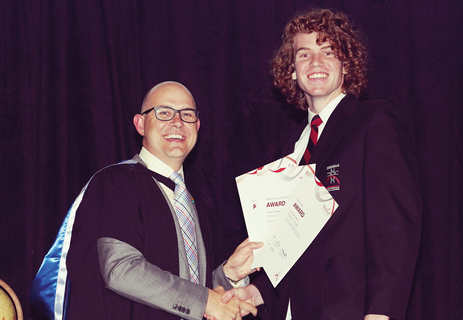 Congratulations to the Class of 2018
We congratulate all of our Year 12 students on their wonderful results which displays their individual pursuit of personal excellence.
We especially congratulate Tobias Turner on becoming the 2018 College Dux with an ATAR score of 95.75.
In addition, Tobias is the first student in the history of South Australia to be awarded with two Governor's Commendations. Mr Martin Westwell, Chief Executive of the SACE Board, confirmed today that Tobias has been awarded the following:
Governor of South Australia Commendation - Excellence Award
Governor of South Australia Commendation - Aboriginal Student SACE Excellence Award

Over 23% of grades were an 'A' level, while the following students will be commended at the College Opening Service in 2019 for attaining an ATAR score over 90:
Tobias Turner - 95.75
Ashley Goodieson - 95.20
Jack Burns - 94.95
Tayte Hickling - 94.40
Calista MacDonald - 92.75
Alice Parle - 90.50
Aimee Ollerenshaw - 90.15

Four Merit Awards were received by:
Charlotte-Jane Baker-Simpson
Teisha Cannell
Lewis Graban
Calista MacDonald
There are many stories of outstanding personal success and as we celebrate our senior students, we acknowledge their hard work and dedication to their learning, along with their support networks of parents, carers, teachers and support staff.
We thank the Class of 2018 for their service, leadership and gifts that enriched the lives of our community. Together, we recognise the capable young men and women that have received their results today and the contributions that we know they will make to the community in their future aspirations.
We wish them every blessing as they begin the next chapter in their lives.

PICTURED: College Principal, Mr Cain McDonald and 2018 College Dux, Tobias Turner.