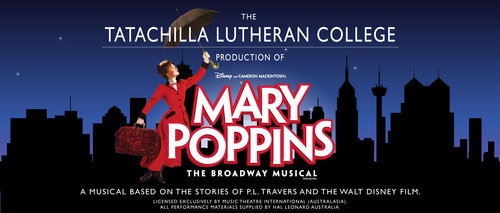 Mary Poppins comes to life in May 2017!
We invite you to join the "practically perfect" Mary Poppins for a "Jolly Holiday" as she magically turns every chore into a game and every day into a whimsical adventure.
Along the way, you'll be enchanted by unforgettable characters.

Show Dates
Thursday 4 May 2017 | 11.00am & 7.30pm
Friday 5 May 2017 | 7.30pm
Saturday 6 May 2017 | 2.00pm & 7.30pm

Tickets
Hopgood Theatre, Noarlunga Centre
Adult $30 | Concession $25 (Transaction fees apply)
Tickets: w: https://www.countryarts.org.au/events/tatachilla-lutheran-college-presents-mary-poppins/ t: 7009 4400
Tickets on sale from 1 March 2017.

Thank you to our generous sponsors
Major Sponsors
Gold Sponsors
Silver Sponsors

How you can be involved
The College invites all current and future 2017 students to be involved in the musical production.
Information will be provided as it comes to hand in a variety of formats. Please see below to view and download relevant information.
Auditions
Auditions will take place on Sunday 30 October 2016, 1pm – 5pm.
Depending on which role you are interested in, timeslots will vary.
For more information on auditioning please see the attached documents.
Mary Poppins Musical Promotional Video, Produced by Poppy Fitzpatrick from Tatachilla Lutheran College on Vimeo.